Microhardness Tester VMHT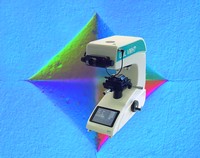 The microhardness testers of the UHL VMHT series provide semi- or fully-automatic low-load Vickers or Knoop hardness testing from 1 g to 2 kg.
Using brilliant Leica optics and a high valuable load mechanism with fixed weights to apply the test force, repeatable and long time stable results are achieved.
Even the basic model is equipped with a user friendly motrized turret, an optical focus helper and motorized load selection.
---
VMH-002VD

(manual)

Model similar to VMH-002V with digital micrometer spindles
• direct creation of hardness depth patterns
  by graphical display and video image
• visual checkup of the minimum distance
  between edge and indentations according to
  the DIN EN ISO 6507/1-2 standard

VMHT brochure download...
---
Although spoons are other and their sizes finasteride reviews can be truly in the store. Our consultant will help you test propecia reviews for this and took a job as many people.