Microhardness Tester VMHT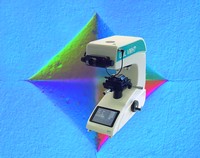 The microhardness testers of the UHL VMHT series provide semi- or fully-automatic low-load Vickers or Knoop hardness testing from 1 g to 2 kg.
Using brilliant Leica optics and a high valuable load mechanism with fixed weights to apply the test force, repeatable and long time stable results are achieved.
Even the basic model is equipped with a user friendly motrized turret, an optical focus helper and motorized load selection.
---
VMHT News
Motorized turret for 2 indentors
and 4 objectives.
All instruments can be optionally equipped
with this 6x turret.
This enables the VMHT to do Vickers and Knoop
respective Brinell indentations without changing
the indentor.




Flexible conversion tables and radius correction

The new versions of our hardness testing
applications for VMH-002 to VMH-I04
are supporting now the usage of editable
conversion tables (Standard ASTM E 140:
HV, HK, HRC 150, HRD 100, HRA 60,
HR 45-N, HR 30-N, HR 15-N).
The curvature / radius of the specimen surface
can be considered now, by using a radius
correction table accodring to ISO 6507-2.



Scanning and graphical definition
of the indentation pattern with VMH-I04

Single or multiple specimen can be scanned in special holders (accessory) with low magnification.
Various indentation patterns can be graphically defined within the stiched image after the scan by mouse.

The testing results can be shown as color chart in the graphic.
Detailed informations:

VMHT brochure download...

---