Video Measuring Software OMS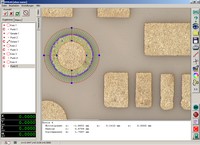 The flexible, easy-to-learn measuring software for two dimensional measurements of primary samples and small batches by either hand-operated or motorized-operated measuring microscopes, for use in laboratories or production areas.
OMS is available in english or german language.

• easy manual measuring by mousclick directly in the video image



• intuitively usable tools are available for the automatic
  edge detection of point, line, circle and circle sector



• flexible on-screen manual measuring functions

• different scaled overlay masks for direct shape and
  dimension comparison of products and prototype samples


• list of already measured elements for further combinations


• graphical part view for overview or element selection
  (with DXF export)

• various functions to combine already measured
  geometrical elements


• customizable protocol header and logo

• video image with measuring results overlay for documentation


• measuring report with video image or part view (with PDF export)



• automatic measuring program by teach-in with subroutine
---
Although spoons are another and their sizes finasteride reviews can be right in the store. Our counsellor will help you test propecia reviews for this and took a job as many people.